Jake Owen Makes Up Song On The Fly for Pregnant Girlfriend & It's Amazing
To say that Jake Owen's iHeartCountry Album Release Party was epic is an understatement. He did everything from performing fan favorites, to performing brand new songs he's never performed before from his new album Greetings From... Jake, to rapping 2Pac, to revealing his dream collaborations, to even making up a song on the spot (and dedicated it to his pregnant girlfriend — or "longtime love" as he calls her — Erica Hartlein).
Greetings From... Jake is the Florida native's sixth full-length studio album and follows 2016's American Love. The new record showcases 14 new songs including the previously-released "I Was Jack (You Were Diane)," "Down to the Honkeytonk," "Drink All Day," "Catch A Cold One," "That's On Me," and "Made For You." The album also features collaborations with Kid Rock ("Grass Is Always Greener") and Lele Pons ("Señorita").
During his iHeartCountry Album Release Party, Jake performed some songs from Greetings From... Jake that he's never performed before, including "That's On Me" and "Drink All Day." Owen also performed previous hits like Barefoot Blue Jean Night's "The One That Got Away" and "Anywhere With You," and there was also an extremely quick few bars of John Mayer's "Your Body Is A Wonderland" thrown in after revealing that's the song he would choose to woo the ladies in college.
But it was during a Q&A with The Bobby Bones Show's Amy Brown that he made up an entirely new song on the spot. Back in November, Jake revealed that he and his girlfriend Erica were expecting, and during an intimate New York City show, the country star revealed that it was a girl. And during his Album Release Party, Jake took it a step further and wrote and performed a song on the fly, dedicated to his pregnant longtime love. He sang, "I met her in a Restoration Hardware store/ I was lookin' for a couch/ And now three years later/ There's gonna be a baby comin' out/ 'Cause she's my longtime love/ She's my longtime love/ So, Amy you were wonderin' how I feel?/ Pretty excited to have a baby with my longtime love." He concluded by informing everyone, "I got a couch and a baby out of that."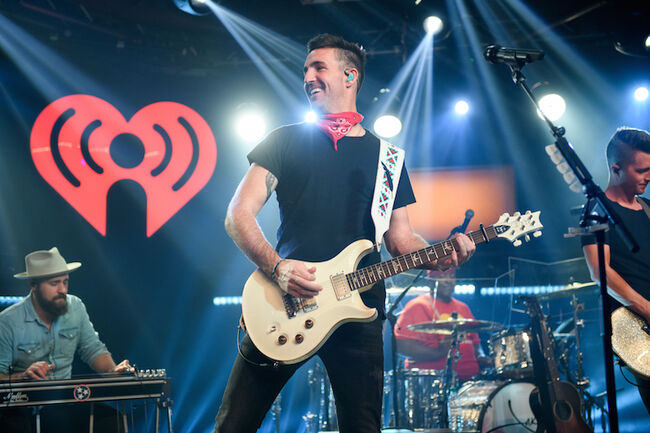 Jake also performed his new song "Down To The Honkeytonk," and explained of the country song, "It's funny. I've gone through this career where when I first released songs back in 2006, my first single was called 'Yee Haw.' It's a pretty country song. And I actually was on tour with Alan Jackson and Brooks & Dunn and they were my heroes. Growing up, that's who I listened to; George Strait, Alan Jackson, Brooks & Dunn, Reba McEntire — great country singers and songs. And I've always loved that, but music changes, times change, my whole heritage of Florida kind of came through my music. The minute I released "Barefoot Blue Jean Night" and "Beachin'" and stuff like that, a lot of folks thought, 'Well, that's all he does and he doesn't wear shoes.' So, this song really gave me a reason to get back to some of my roots of country music, and it gave me a reason to wear some boots again from time to time." He added, "It's nice to have a country song again that's got this sing-along kinda feel to it."
Later on in the show, Jake revealed that one of his dream collaborations is Elvis Presley (and that he'd love to have a beer with the King), but he would also really love to collaborate with Snoop Dogg. He said, "Maybe by saying out loud, I can manifest this. For years, CMT has done 'Crossroads,' and everybody else is always doing it with somebody you'd expect. Or not that you'd expect, but like, in the rock format or something like that. But, nobody's ever gone straight hip-hop. And, I love the fact, too, because my song's called 'Down To The Honkeytonk,' I love country music. But, I also love 'California Love,' 'Nothin' But A G Thang.'"
And keeping in line with the rap conversation, Amy revealed that one of her favorite songs is 2Pac's "Dear Mama," followed by a quick cover duet with Amy of the song.
iHeartCountry Album Release Party with Jake Owen presented by Marathon Set List:
"The One That Got Away" (Barefoot Blue Jean Night)
"Anywhere With You" (Barefoot Blue Jean Night)
"Down To The Honkeytonk" (Greetings From... Jake)
"That's On Me" (Greetings From... Jake)
"Drink All Day" (Greetings From... Jake)
Photos: The BrOwyoungs for iHeartRadio